Markets appear to be in cruise control mode, at least until the Jackson Hole central bankers rally when the Federal Reserve may finally announce that it will slow the pace of bond purchases. The S&P 500 SPX,
-0.20%
finished Tuesday at its second-highest ever closing level, after a slight dip ended a seven-session winning streak.
Patrick Artus, senior advisor in economics at the French bank Natixis and professor at the Paris School of Economics, does not share the joy. In a very direct note to clients, Artus says that a crisis is "inevitable".
The total debt stocks of the United States, the United Kingdom, the euro area and Japan to gross domestic product have reached the highest levels of the pandemic as economies reopened but are still at high levels. "The creditworthiness of the borrower cannot be assured if debt-to-income ratios continuously increase," he says.
Money supply is also at record highs. "Money supply cannot be continuously increased relative to income, because sooner or later the demand for money, which is linked to savings and income, cannot increase any further," said Artus, whose curriculum vitae includes passages from the Organization for Economic Cooperation and Development the Banque de France.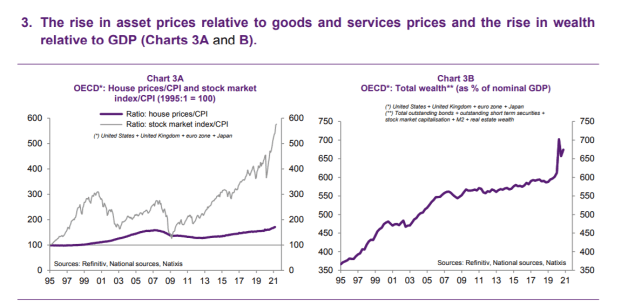 Wealth is also booming, with soaring stock and house prices. "The rise in relative asset prices cannot be extrapolated: if they get too high, the savings of asset buyers will no longer be enough to buy then, inevitably leading to a downward correction in prices," he says. Finally, he notes an inflection in the distribution of income against employees: "If wage income does not receive productivity gains over a long period, the demand for goods and services will become too weak to absorb production, which increases rapidly when the income is invested.
So how is this going to play out? Artus claims that a correction in the income distribution will lead to faster wage growth and higher inflation. This, in turn, will require tighter monetary policy and higher inflation-adjusted interest rates. The more restrictive monetary policy will then stabilize asset prices and wealth, forcing deleveraging. And this deleveraging will lead to a recession due to the necessary decline in demand from households, businesses and governments.
"The stabilization of these variables will lead to a very drastic crisis, due to faster growth in wages and inflation, a restrictive monetary policy, a fall in the prices of wealth and assets, and of a recession caused by a drop in domestic demand, "he concludes.
Minutes fed to the tap
Speaking of the Fed, the minutes of the latest U.S. central bank meeting are expected to be released at 2 p.m. EST. "Markets will look for more color in discussions surrounding inflation risks. While central opinion remains that the rise in inflation is likely to be transient, Fed Chairman Jerome Powell has acknowledged that recent developments need to be watched. So any details of how much concerns have grown lately will be interesting, "said Rhys Herbert, senior economist at Lloyds Bank.
The European Union has improved its economic forecast for the next two years, now seeing euro zone growth of 4.8% this year against a May expectation of 4.3% growth. The EU said it was the biggest upward revision it had made in more than 10 years.
China to tighten rules for companies looking to sell overseas, just days after Didi Global DIDI tightened control,
-19.58%,
the China-based taxi service that was recently listed in the United States
Oil giant Royal Dutch Shell RDS.B,
-1.23%
said it would increase its payments to investors due to rising oil and gas prices.
The President of Haiti, Jovenel Moïse, has been assassinated, announced the head of government of the country.
The steps
The main action took place in the bond market, where the yield of the 10-year Treasury bill TMUBMUSD10Y,
1.344%
was only 1.35%, and the 30-year yield TMUBMUSD30Y,
1.973%
was below 2% for the first time since February.
US ES00 futures contracts,
+ 0.19%
NQ00,
+ 0.60%
rose as the Nasdaq 100 contract was boosted by falling bond yields.
CL.1 crude oil futures contracts,
+1.77%
were trading for less than $ 75 a barrel.
Random readings
Sotheby's has said it will accept BTCUSD bitcoin,
+ 2.97%
in an auction of a 100 carat diamond.
Chinese scientists want to deflect asteroids with rockets.
Need to Know starts early and is updated until the opening bell, but sign up here to receive it each morning once in your inbox. The emailed version will be sent at approximately 7:30 a.m. Eastern Time.
Want more for the day ahead? Sign up for Barron's Daily, a morning investor briefing, featuring exclusive commentary from the editors of Barron's and MarketWatch.