In my previous article on Gerdau (NYSE: GGB), I called the business a relatively risky game given some of the credit rating shortcomings as well as some of the geographic and macro risks. Invest in companies Brazil is still a bit risky due to the potentially volatile currency and markets – although it is equally dangerous to overplay these risks and ignore the market altogether, as some investors want to do.
We'll take a look back at this 100+ year old steel company with 30,000 employees and see if it can be a compelling investment today.
Invest in Gerdau
Gerdau has a high yield, investment grade security at a BBB- and has had an international market presence for over 40-50 years at this stage, with a very early expansion strategy. Current operations are spread across 13 countries, which means that despite some of these risks, there are hedges that could further mitigate the risk. Being a family-controlled company also brings some of the advantages – as well as the disadvantages of such a company, including the lack of shareholder control, but a very vested interest in things like the dividend.
Commodities such as steel, like other commodities, are sure to have certain advantages in the market environment that we are clearly entering. These investments tend to maintain their levels much better than some other sectors, given the relative pricing power of companies.
As I mentioned in my original article, steel is highly correlated with population growth, and the market has seen double-digit growth in demand over the past few decades. Gerdau also produces in one of the most attractive steel geographies in the world, with Brazil being the world's 9th largest steel producer. It's also not an easy industry to get into, which is why we've seen such a degree of consolidation over the past 20 to 40 years.
Companies that exemplify this include Bethlehem Steel Corporation, known as Mad-Men, Trico Steel Co, National Steel Corporation, LTV Corporation and others, many of which have been integrated into ArcelorMittal (MT). At this stage, there are only a few truly competitive large producers left in the market, and Gerdau is one of them.
This gives advantages to Gerdau. Another advantage in the current macroeconomic situation is the company's relatively minor exposure to Europe, which insulates it somewhat from the energy price issues currently plaguing my home continent. Gerdau can produce steel cheaper than most of its European counterparts, and given current trends, this is very unlikely to change in the short term.
In fact, I think it's fair to assess the current situation by saying that the environment for steel and everything the company produces has improved significantly over the past 6 months, although a Part of that is weighed down by COVID-19, logistics pressure and commodity price inflation.

The company recorded an increase in net sales of almost 25%, net profit up almost 20%, EBITDA up 35% on an adjusted basis and a margin improvement of 2.2%, the all despite some of those cost pressures. The only problem Gerdau faced was getting their product to market due to shipping constraints.
The request, however, was the best in recorded history. Demand in the manufacturing sector as well as in non-residential construction remained strong. Indicators indicate that these end markets will improve – and although logistical and labor challenges are not expected to diminish and inflation is on the rise, Gerdau is in a unique position to meet these challenges.
The company is on track with profitability and its NA-based transformation.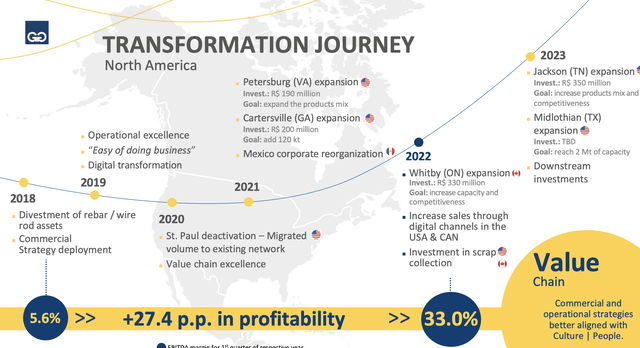 Overall, it's fair to say that no segment experienced any issues in terms of sales or margins, and even in South America, where shipping, sales and logistics issues had a impact on margins, the fundamentals are still very solid. The outlook for the company's end markets remains at extremely high levels. The company recorded the 8th consecutive quarter of positive FCF, and also recorded one of the lowest net debt ratios in a very long time, at less than 0.25X With well-laddered debt maturities secured at attractive rates and enough current cash to pay on all of its debt, Gerdau has no fundamental issues – and it lacks a BBB credit rating – is somewhat misleading.
The company is sticking to its dividends, with a yield still above 10% LTM1Q22. The company has also launched a share buyback program. We won't hear from Gerdau and his 2Q22 results until August 3, but it gives us plenty of information on which to base an investment decision.
I pointed out in my previous article that the company is currently in a part of the cycle where it is operating with a very high ROIC, which means that most of the other corresponding key variables are also positive. I discuss some basic risks in my original article…
The iron/steel market is inherently volatile, best expressed by looking at this company's earnings and sales over time.
The Brazilian Real (R$) isn't exactly known as the most universally stable currency, and over 50% of corporate profits come from Brazil. The company's FX exposure is massive. Brazil is also not inherently known as the most geopolitically stable region, with lots of ups and downs.
While the company's current debt level appears low thanks to high profits, the actual total debt is relatively high. With a high cost of capital and historically low ROCE compared to a relatively high WACC of well over 9% at this point, the company has struggled, outside of this crisis, to really generate returns for shareholders. This is a problem, and not a minor one. (Source: article Seeking Alpha, Gerdau)
I will argue that some of these risks have diminished as the company has been given enough leeway to meet its actual debt with the benefit of massive profits – enough to carry out share buybacks. I will also say publicly that it is difficult to say exactly when the problematic macroeconomic situation, characterized by high demand and inflation, is likely to ease or end.
While Gerdau will face its share of challenges, I believe those challenges will fail to outweigh the benefits of the current environment, which puts commodity players like Gerdau at a price advantage due to their power to price fixing.
Gerdau – The evaluation
That doesn't take away from an extremely volatile earnings history, but the fact is that over the past 20 years the company has clearly outperformed the broader markets, with an annualized RoR of over 12%. What's even better, the company shows no indication of being grossly overvalued as it was before the financial crisis of 2007-2009.
In fact, the company is significantly undervalued considering that this macro is likely to continue for the foreseeable few years. Now, will we see similar results in 2021? I doubt it – I think the forecast in its trend due to inflation, war and macro, will have the downward trend that the analysts predict here. However, given Gerdau's low valuation, there is still a fairly realistic earnings upside as well as peer outlook where the company, at peer multiples, is heavily discounted.
Based on all forecasts, Gerdau is currently experiencing attractive price levels. The only issue is what an uninflated level of demand should mean in terms of average EPS.
S&P Global views Gerdau as a strong "BUY" here. 5 analysts see the company up 46.9%, with all but one currently expecting Gerdau to outperform.
There is no doubt that Gerdau is a well-established company in several markets. There is also no doubt that Gerdau is trading at significantly cheaper multiples on virtually every basis compared to its peers right now, with a few exceptions.
My main point about these peers remains – they're all trendingly better capitalized than Gerdau, and any investment in Gerdau has to take into account that 50% of the company's EBITDA actually comes from Brazil, which is not exactly stable. geography by all means.
There are safer alternatives out there – I still believe and see that. However, given the macro shift, we see that I'm now willing to pay tangible book value for the company, which means I might be ready to start looking at Gerdau at around $5/share, which is a pretty big uptick from my recent price target for the company of around $3/share.
Some risks remain. I stand by what I said in my last article, that Gerdau must show consistent profitability. However, the difference now is that with this macro, I think it's a realistic scenario for the next few years. That's why I bang my PT for the company.
Thesis
My thesis for Gerdau here is as follows:
Although Gerdau has some appeal from a fundamental perspective, active in good geographies with growth potential, the company has yet to prove consistent returns above the cost of capital and debt. For now, this is done thanks to excessive demands due to the recovery.
I don't consider Gerdau a "BUY" here, but valuation targets have improved significantly. If you bought the company during the crash – congratulations, you have excellent returns and can enjoy your return.
The price target is below $5/share when the tangible book value reaches a ratio of 1X. Until then, I'm at a "HOLD". That means I'm still at a "HOLD" now, but it's much closer to a "BUY" than before.
Remember, I'm all about:
Buy undervalued companies – even if that undervaluation is slight and not incredibly massive – at a discount, allowing them to normalize over time and reap capital gains and dividends in the meantime.
If the company goes well beyond normalization and enters overvalued, I reap gains and rotate my position to other undervalued stocks, repeating #1.
If the company does not go into overvaluation but is at fair value, or goes back down to undervaluation, I buy more if time permits.
I reinvest the proceeds of dividends, labor savings or other cash inflows as specified in point 1.
Thanks for the reading.